open
INVESTMENTS IN TECHNOLOGY AND CULTURE Generous investment
for technology development
In 1999, after Park Shin-kyu, President Park Jong-wook became CEO, and Royal started new challenges. First, we entered the bathroom pottery business in 2005. It is not easy to make pottery for a company which made faucets so far. Because it was a totally different to handle people for production process like as the contrast of metal and soil. However, Royal has invested in the belief that it should be able to provide consumers with a holistic solution to the question "How do you decorate a bathroom space?"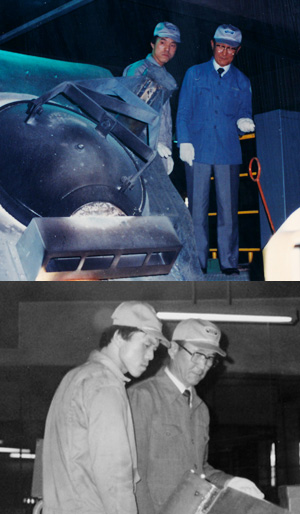 In 2004, we have developed self-generating type automatic faucet. it's using water falling energy to operate built-in charger. In 2006, we launched the premium brand 'ROYAL VINI' and introduced products with a luxurious, restrained design. In 2008, we also received a favorable response from market after releasing electronic water shower which can control water usage time by button. Next year, we separated from Toto Japan who had been a technical partner for a long time and started to stand alone with the name of 'Royal & Company'. It was possible because we had confidence with long accumulated technology.
Communicate with culture and art
We also invested in culture and art. We made a new attempt to communicate directly with consumers It is not price competitiveness and we wanted to communicate with customers through emotional cultural marketing and brand image. In 2006, the headquarters in Nonhyeon-dong was transformed into 'Gallery Royal' and It is also part of this cultural marketing that we have established a Hwaseong Center, a factory with a construction site of 115,000 square meters, on a 100,000 square meter land area in 2015 in Hwaseong, Gyeonggi Province, together with various cultural spaces. Mr. Park Jong-wook who led this change, wanted to create a special space for Royal Man. "Gallery Royal is a multi-cultural space featuring of art galleries, book cafes, restaurants, wine bars, etc in Seoul Office. it is a place where anyone can come and enjoy our culture and arts. The another center in Hwaseong has also provided art space for sponsoring artists, like as rooftop gardens, athletic facilities, and art galleries. We hope that the quality of life of our employees who spend a lot of time here will be enriched and through better conditions, we hope that they will work with more creative minds. Especially, these multi complex cultural spaces are important contact points to meet consumers emotionally. we want to communicate with consumers by sharing, supporting, pursuing of culture and art. "
History of
Royal
The Way the Royal have went,
The Road have went with the Royal